Joined

Jun 6, 2008
Posts

7,715
Reaction score

45
Location
Congradulations to Chris(99cfENVYv6) on winning "
Best all around DEP
" theme. Chris have been a long time member on 6ga. He is always taking his game to the next level. His car not only looks great on the exterior,but also under the hood, backed up by his 3.2 CL-S/6speed swap. Thanks Chris for representing the DEP!
Best all around DEP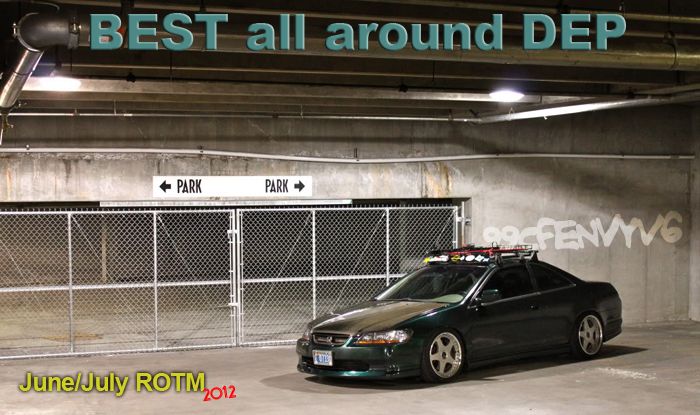 1. Is this your first car?
No. I previously owned a mid 90s Camaro
2. How did you end up with the accord?
When I moved away for college in late 03, I needed
something that got better gas mileage and had a bit more cargo room. I liked the look of the 6th gen coupes...
3. When did you first start modifying cars?
Before I had my driver's license. I started with sound systems in my parents cars
4. Did you run into any problems along the way when you were modifying stuff?
Who doesnt? Its part of the whole process. Honestly, if you havent run into an issue, you havent really done anything.
5. Why do you do it? Why not leave it stock?
Because this car seriously lacked any fun factor. It lacked a lot from the factory. I think I would find most cars lack what I WANT from the factory, so I have to make up for it..
6. What other mods do you have planned for the car?
Immediate plans are small. I need to have the clutch replaced, a few other maintenance issues, then most likely a roll bar & paint. Im also tempted to change up the wheels I bought last spring.
7. Any other cars you're tinkering with?
Not at the moment, although a Harley-Bobber is high on the priority list.
8. What's your favorite thing about your car, specifically? Which money do you feel was your best investment?
Motor/Trans swap. Changed the car completely. Also re-focused myself as far as what I would like to do with the car.
9. Is there anybody you would like to credit or thank for helping you along the way?
I have to give a huge thank you to Family and friends for lending a car whenever I needed to make a run while mine was on jacks. The car wouldn't be anywhere without Jakie-Poo (moneypit) and his brother Matt for their knowledge and help, without them I would not have done the swap. Eric Chang, cuz he's a asian bruhdda from a nutha uddha, Kevin A (the doc X) influencing my opinion on stance every time I talk to him. Thanks to all my friends when I was young who got me into this hobby.
Stay tuned for the next ROTM theme
.
Last edited by a moderator: