well, out of total randomness and a lot of convincing, i purchased my dream honda..
flew out to san diego from columbus ohio with my good friend, and then proceeded to drive it home from san diego to columbus, roughly 2500 miles.. was an experience of a lifetime. being able to do this at 20 years old makes it that much sweeter.. only problem i ran into with the vehicle was out in tulsa, oklahoma, the driveshaft bolts blew out, causing us to need a tow to dan carlton honda, which was an amazing dealership. had movie theatre inside of it, and were great people to work with. there is a small boost leak right now, only pushing 6psi, but will be fixed tomorrow and will be back to 9psi.
2002 honda s2000.. 34,xxx miles.. BB with red interior.
mods:
Slightly modified Revhard turbo kit 324hp/223tq @9psi on 91oct (everything Revhard includes) Less than 5000 miles
4.44 final drive
AEM ems series 2, 3.5bar map and uego wideband sensor
RC 750 injectors w/ resister box (Less than 300miles)
Turbosmart wastegate
Walbro 255 fuel pump (Less than 300 miles)
Greddy intake filter
Greddy RS bov
Braided oil lines
Apexi N1 single
Test pipe
Koyo Radiator
Custco engine strut bar
Neuspeed sway bar
Act stage 3 clutch with chromolly flywheel (Less than 300 miles, still breaking in)
Apexi Boost gauge
Eibach springs
Brax x2400 amp (hidden next to spare tire)
Upgraded sound system with sub in passenger foot well (not sure the brand but it sounds amazing)
Alpine Head unit w/ modifry controls
JDM headlights
Clear side markers
Painted bronze oem wheels w/ painted metallic blue stock lugs.
S2000 engraved shift knob w/ red stitching boot
Ap2 rear bumper
Tint 35%front windshield 5% sides
Hellahorns
Homelink garage programmer installed in passenger visor
Carbon fiber spark plug cover
Comptech battery holder
Key hole covers
Stainless steel oil lines
Upgraded banjo bolt from the recall years back
Greddy oil cap
spoon lower rear tie bar
front bump steer kit
couple pics: sent from my blackberry, will have more later.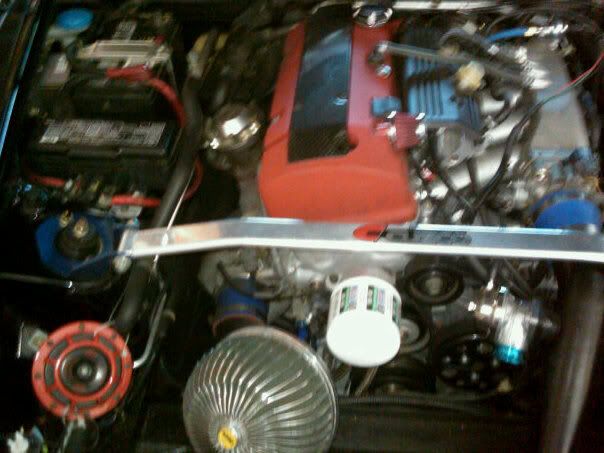 plans are to fix boost leak, wheels and suspension upgrades.. then more boost!