Engine/Performance:
-Magnaflow Catback
-NGK Iridium Spark Plugs
-Stock V6 Engine
-Once-replaced 4 spd Auto
(288k on the odometer btw and running great)
Suspension:
-Tein Basis Z Coilovers (installing this weekend)
Interior/ICE:
-LED Instrument Panel/Dash/Interior lighting
-Razo Shift Knob and Boot
-Carbon Fiber Interior Trim "4D" decals
-Honda Seat Covers
-Genuine Leather Steering Wheel Cover
-Rubber Floor Mats
Cosmetic:
-Black-Trim Headlight Housings
-LED High and Low Beam lights
-Quick-release fasteners
-Konig Sub-brand gloss-black 17x7 wheels
-BF Goodrich Advantage T/A XL 235/45 tires
-Window tint all around
-I've got a Cobra-brand "Accord" logo hood bra I like to throw on sometimes, too
Short backstory: A front-end collision almost totaled out my car. I knew nothing more than changing oil on cars before, and rebuilt the front end (essentially every part in front of my engine haha) over the course of a couple months using YouTube videos and taking lots of pictures. So, that would explain my bad fender/front bumper fitment (fasteners help some) and the plasti-dipped hood.
Dropping it a little bit this weekend with the coilovers, and thinking about dipping my wheels gloss white (opinions, please?) while I'm at it. Also, feel free to suggest any other mods I'd be capable of doing myself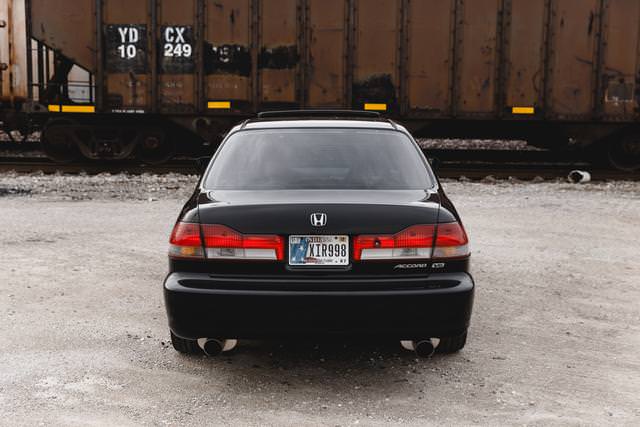 Last edited: