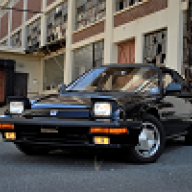 Joined

Feb 24, 2017
Posts

241
Reaction score

17
Location
Hey, long time no post. Figured I'd post this up here instead of non-6GA rides, since it isn't actually mine yet...
Was coming back from a grocery store trip and spotted this old Prelude sitting in a used car lot. I stopped to take a look at it, and found out it was a 1989 2.0Si with 4 wheel steering. One owner, 94k miles. No price yet as they had just gotten it in the night before. Left my name and number for when they got a price on it.
Called them after the weekend and the guy told me $2500. Took it for a test drive, and noticed some issues. I'm having it inspected on Monday by the shop I take my cars to. So, I'll know then if I'm buying it or not. Would like to knock $500 or so off their asking price for the repairs it's gonna need.
It needs some rust on the body taken care of, the auto trans is gonna need work, suspension is pretty rusted, etc. But for $2k I'd be good with it. Most of the stuff on the car works, like the power sunroof, headlights pop up, and the 4WS works too.