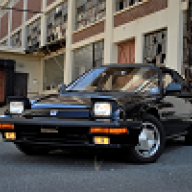 Joined

Feb 24, 2017
Posts

241
Reaction score

17
Location
unless you get lucky and have someone with a conscious, they simply are going to ignore defacing your car as wrong as it is morally.
I have encountered at least one person with a conscience. Too bad it was when I was driving my crappy minivan and not any time Selene was damaged...
I was coming out of a store and once I got to my van, a girl came running over to me. I then noticed a little piece of neon green paper under the van's wiper blade. The girl explained that she had bumped into the rear bumper of the van and wanted to make sure I got her note. It had her name, phone number and insurance info. She seemed genuinely sorry about it.
I walked back to inspect the damage. The spot she bumped into had missing/cracked paint for a couple of years. She must have thought she caused that. Her car (an old Nissan) was okay. I told her it was alright, no big deal, and I thanked her for being honest. TBH she could have actually damaged it and I wouldn't have cared. The thing wasn't pretty to begin with and filling an insurance claim would just be a waste of time, and probably hurt her premium. Her honestly was worth more than that.
I have honestly never hit another person's car. But if I do I intend to pay it forward like that girl did.
My friend's boyfriend accidentally backed into Selene's left rear quarter panel last year in their driveway, while I was there hanging out. He was leaving for work, it was dark and he didn't see my black car sitting at the edge as he backed out. He came back inside with his head hung low, and said "I totally just backed into your car. I am so sorry. Good lord."
So we all went out there. He had cracked the outer tail light housing and the dip on the quarter panel was scraped, but the paint was fine underneath. The dip took the hit! I didn't want his insurance to go up because of an honest accident, so when he asked if he should call his company, I said no, it's okay. He offered to pay for whatever I needed, and I asked him for $35 to buy a new tail light lens. I had a new one in two days later. Someone hit Selene in the exact same spot a few weeks later.
Though, the other person hitting me was a different story. They side swiped me trying to pass me on a single lane street, as I was preparing to back into a parking spot. I was stopped about halfway on the road, about to parallel park the car. People are supposed to stop and wait for you to move out of the way, but this person slowed down slightly, couldn't move to the left any farther because of the oncoming traffic, then kept driving and scraped the left side of the bumper and wheel well, hard. Then they just kept on driving. So I chased them back to their house, because even with me putting my hazard lights on and waving out the window for them to pull over, they wouldn't. I mentally prepared myself for a fight when they finally stopped in front of a house. My face was burning hot and my heart was pounding in anger. I pulled up next to them and rolled my passenger side window down.
An old lady was sitting there in that 2008 Civic.
Ugh.
When she figured out that she had actually hit me and not just gone around, she tried to accuse me of hitting her car. With my wheel well, apparently. There was black transfer on her outside right front bumper, and scrapes on my car from the side of the rear bumper up to the rear left door. Pretty easy to tell who did what, but they persisted to their insurance company that it was my fault. This lady clearly did not know how insurance works, because she was saying I'd have to pay her $250 deductible and for the repairs. I work at a large insurance company, so I kept my mouth shut and let her accuse me of the damages. I called my company and filed a claim too. With a photo of the damage to my car.
A few days later, her insurance sent an adjuster out, and after a few phone interviews they accepted liability. And hopefully that lady learned her lesson about how insurance works, and how lying to them is not a good thing to do.
Sent from my SM-G920V using Tapatalk