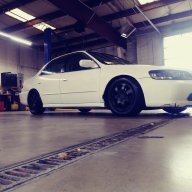 Joined

May 15, 2016
Posts

228
Reaction score

9
Location
Im going to be replacing my exhaust setup soon and was wondering on opinions on exhaust piping size.
This is for a f23a1 5spd with 3" sri, header, and aem pulleys. As for goals keeping it stock besides these mods for now. I will be moving from denver back to Florida within the next year so after i do emissions testing, i plan to have a test pipe replace the cat.
The current exhaust setup is as follows:
The previous owner had mainly done a 3" setup from the cat back than down to stock piping to stock muffler around the area of the rear canister in front of the rear suspension. The rear canister was deleted.

I have researched and get mix feelings on 2.25 or 2.5 sizing, im leaning on 2.25 to keep low end torque, but would like to hear from others who run 2.5 on daily driving experience.

The setup i plan minus on what size piping would be whatever size piping to test pipe back to a vibrant muffler flat back with 3" outlet, inlet will depend on what sizing i go with. Any help would appreciated.
Last edited: