Joined

Jun 23, 2011
Posts

1,413
Reaction score

6
Location
dso ive decided to make a thread for my upcoming swap..
so i started the build a good 6 months ago. it started out as a G23vtec swap, and it was just going to a bone stock build. i was trying to be as cheap as possible. but that has now all changed.. decided to go fully built h22. its going to be all motor build, and something thats going to be good for daily driving but yet can handle with high rpms at long periods of time; on the weekends at the track.
first thing i picked up was my h22 head off a guy from CL. $150
next i swooped up some adjustable cam gears.. later swapped out the bolts for locking washers and bolts. $80
picked up some dc sport headers from a guy on CL. brand new for $80. i now know these headers are crap. so soon enough ill be getting some tri-y headers
i took off the valve cover and took out the cams. looked in really good condition
then i started to clean up the head to give it some shine

picked up another valve cover for free.. painted it dark purple. soon strip it back down to bare metal, do the 'mooncut' and just do a polished vc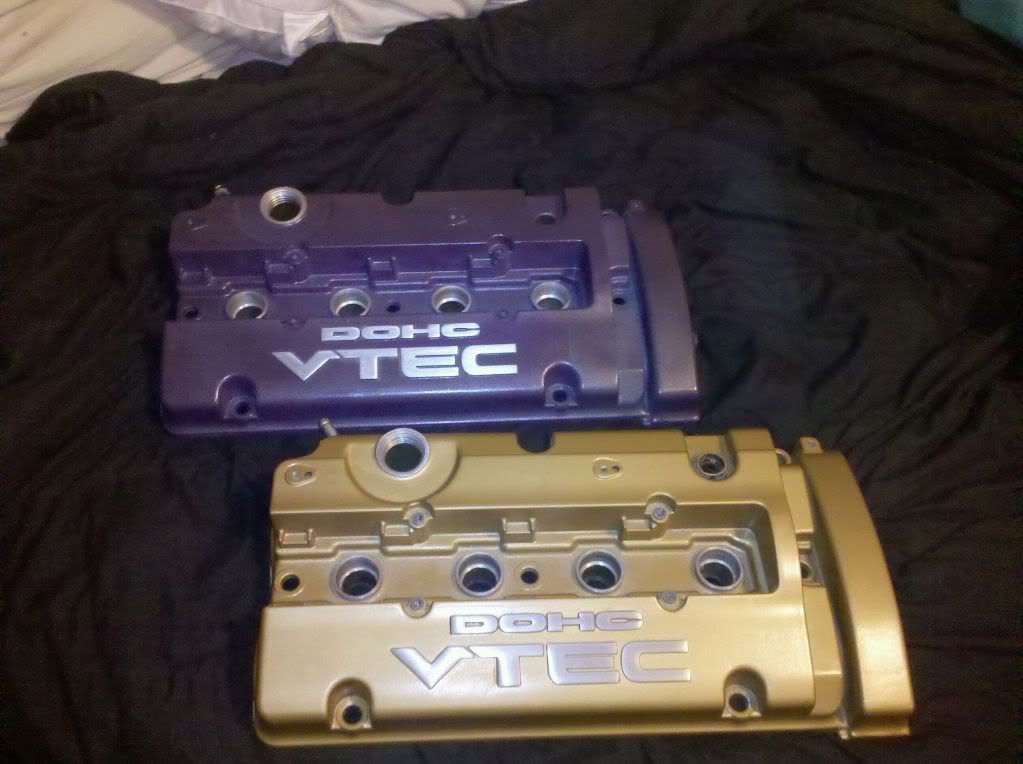 went an picked up a p28 5spd ecu. $60
wanting to chip with a hondata s300
i also traded my busted sportmaxxs for a ApexI SAFC2.
itll be used to have two different fuel to air ratios available at all times. one for daily driving and another for when i go to the track.
went and swooped up my intake manifold, obd2 dizzy with nearly new NGK wires, coil pack, lsd tranny w/ starter (after buyin a h23 tranny two days earlier)
<which is still up for sale
, alternator bracket, full wiring harness. $365
yesterday i cleaned my intake manifold. it came off a blown motor and had oil caked up in the runners. then painted it flat black. im going to have it bored out to ??mm to match the throttle body i get. if i have to buy it brand new then im going 70mm, but if i can come across a good deal on a 68mm ill roll with that. future dreams, hopes, wishes and everything else beyond the rainbow ill end up converting to ITBs from TWM. but as of right now their a little to much, i wanna get the motor up and running first before i drop 1500 on one part.
then today my arp head studs came in the mail. brand new but with minor surface rust. they went straight into a zip lock bag of lube. $100 shipped
im going to pick up a longblock on thursday. its the same one i got all the parts off of.. its blown due to what the guy said, was ran with low oil while racing. he was able to drive it home but had a bad rod knock. pickin it up for 100. although i am going to inspect the cylinder walls before buying. but as far as everything else in there i could care less about since its all going to get swapped out for performance goodies. and since thursday is pay day ill be able to paypal this guy for type-S pistons (11.1:1 c/r) and matching type-S rods with new rings and pins and also a cosmetic head gastket. going to run me 265 shipped.
also yesterday my buddy calls me sayin he has a b16 swap for sale thinkin i still had my DA. let him kno that i have an accord now and am in the middle of doing a h build. followed by him sayin he has some skunk2
+0.5mm oversized valves' brand new in box for a H. he wants 175. so maybe on thursday or friday i might have to go pick these up. hopefully i can get em for at half price for 150.
11/19/2011
so i got the long block today. although dude backed out on the price we had already agreed on due to what he said is because alot of other ppl have been offering him more. so he jacked the price up to $200
. but he did hold it for me for 2weeks, deliver it to my house, and threw in the alternator.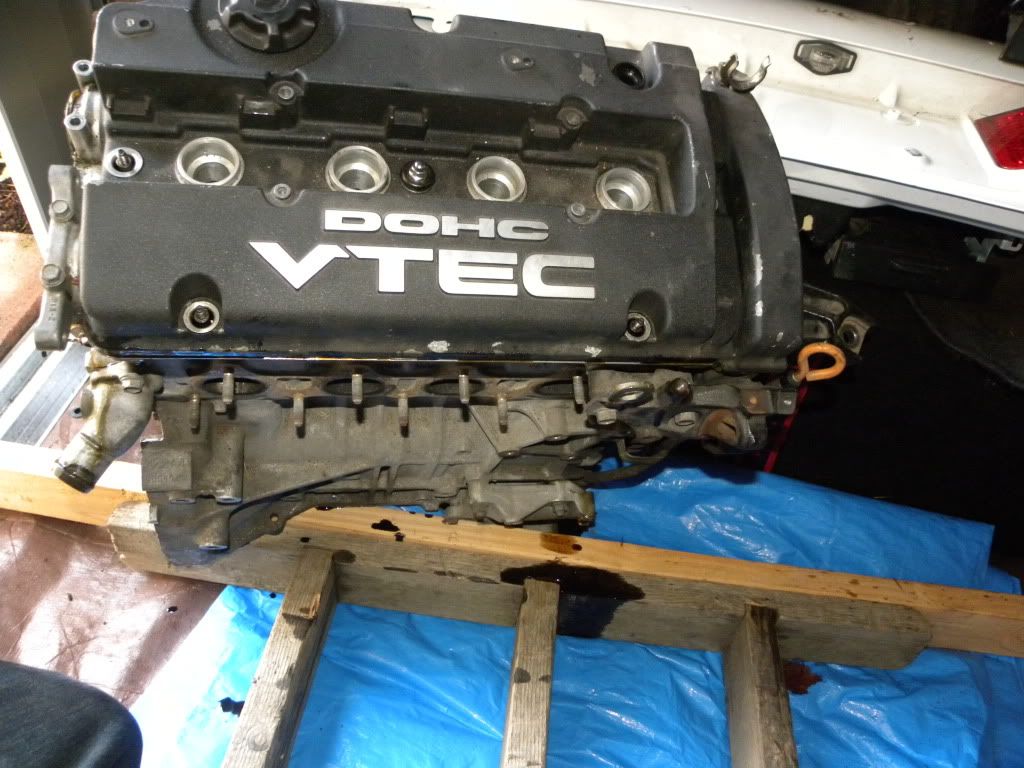 also went and picked this up for $5 at a garage sell. more lighting, easier working condition.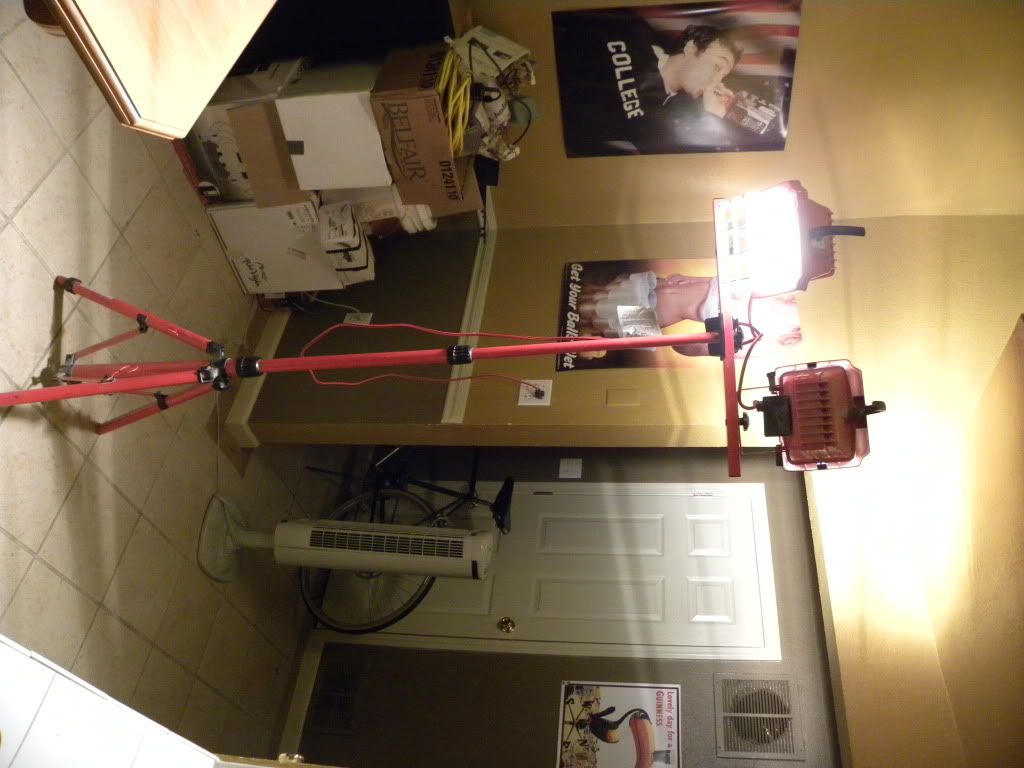 11-29-2011
small update. but i had today off and i was itching to get something done. so i decided it was time to take apart the bottom end and get a good look at the cylinders.
when removing OEM headstuds make sure to use this kind of socket. at first i thought it was a 15mm since a normal 14mm wouldnt fit. but once i went to break em free it just spun and almost stripped the studs.
got the head off
flipped the block over to start working out the pistons. then i was stopped with a problem 5mins in.. i cant get the main off. its as if its welded on or something.
since i cant get the main off this is the best view of the cylinders for now. i did spin the crank around the look at the whole cylinder. didnt see any grooves or scratches. thank god. although the pistons look like ****
12-03-2011
small middle of the night update. so i just traded the head of the long block i picked for the skunk2 +0.5mm valves to my buddy. i really didnt wanna let go of the head cause i had ideas of maybe a g23 build later on down the road.. but since the holidays are coming up money is getting tight and i didnt want him selling em to someone else. but its whatever cause i basically bought a block and valves for $200. which is 100 bucks less than the retail value of the valves alone. although i do wish i didnt get a ticket on the way there.. its kinda killing my mood.

12-05-2011
well today i got some more goodies. first i went and traded my h22a1 cams with gears, a bare h22 tb, and a PAA ecu for some type-s cams. im not sure if im going to be running theses yet or going with bigger cams such as some tuner 2s; but when the guy was willing to trade for stuff i had no need for, i couldnt pass it up. and when i got back home i had a package (the same package i thought i got scammed on) waiting for me; my type-s pistons, head gasket, and AEM fuel rail are now here.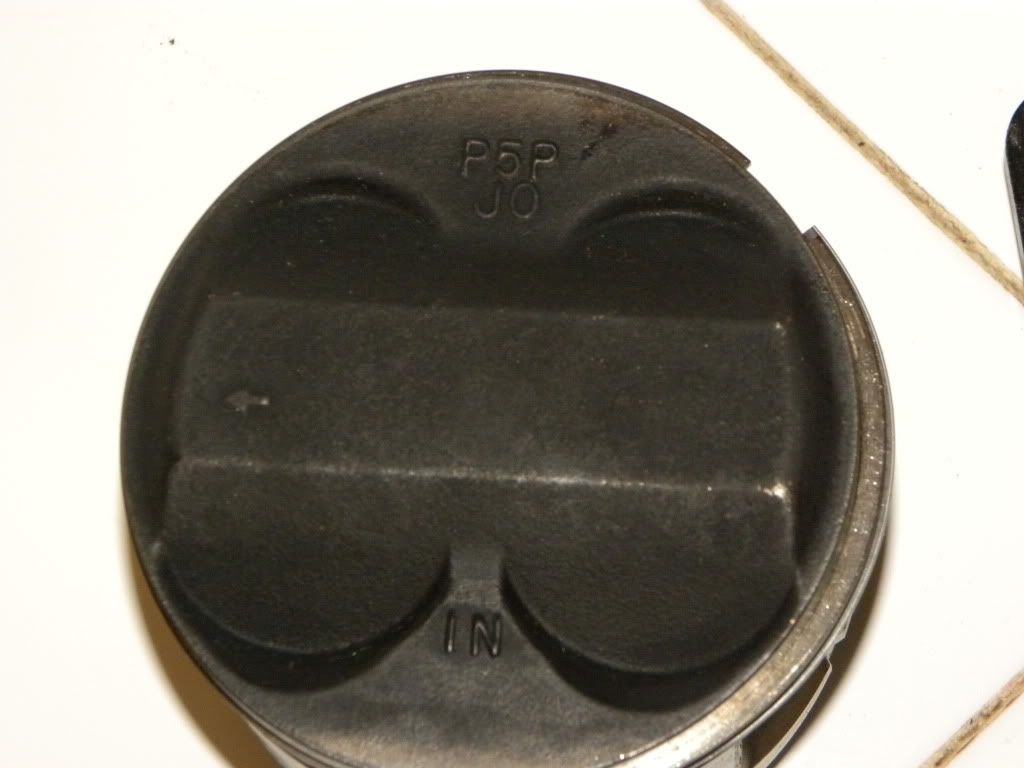 12-06-2011
yet again another parts update.. i found a brand new KMS block guard, KMS titanium retainers, KMS valve guides from a guy off CL for $200. he had some valve springs too.. but they were only single spring? and from what ive found KMS doesnt make single valve springs for the h22. and it was the only thing not in the original package... so i think he was trying to pull a fast one there. but he also said he use to be on here like 6yrs ago. i guess he had a sedan that was spraying 75 shot. he forgot his username thou..
12-07-2011
got my ACL race bearings in today $80 for the set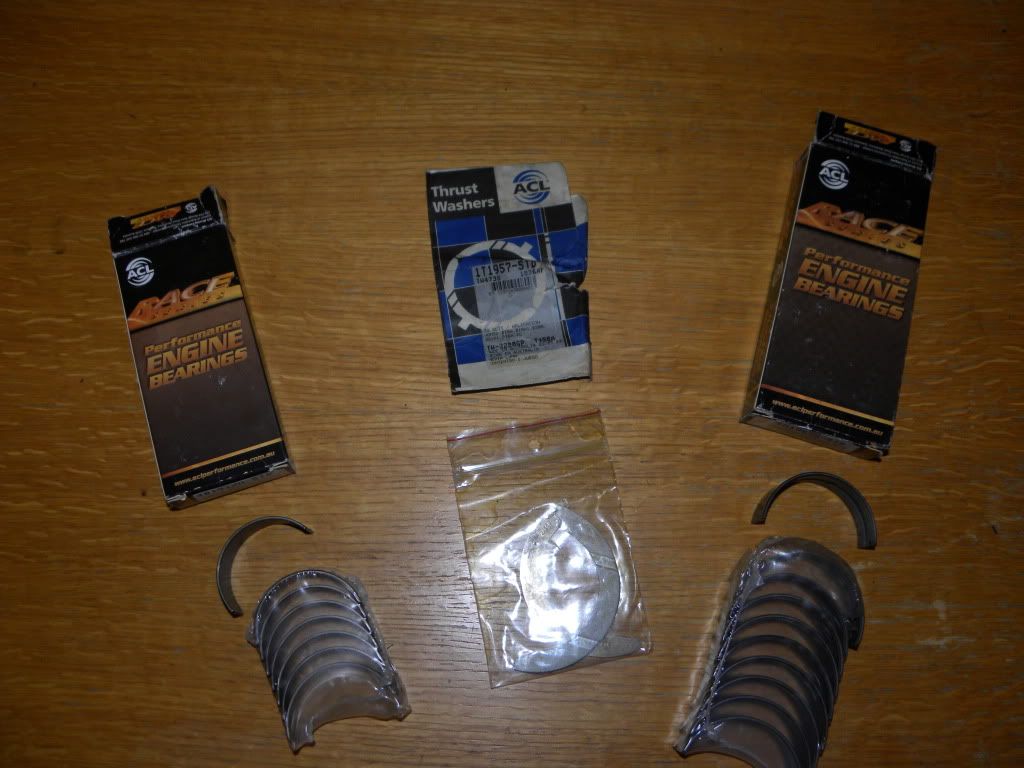 also i need some help figuring out what these two things are..
this one is located right below the oil filter
and this one is right next to the deck surface of the block
EDIT: its a broken knock senor.
12-08-2011
so heres todays parts update. went and picked up some drilled and slotted rotors off a 99 prelude (direct swap). they had been sitting for a while so they're a little rusty. ran me 45 for the set.
then went an swooped up the valve springs and a brand new h23 timing belt.. dont know if itll work yet or not but oh well. got theses two for 65. but it turns out the valve springs, retainers, and valve guides are all for F series.. after researching.. the springs will work; although its not what i want since they're only single spring and not dual. but the guides and retainers wont work.. i was pissed. so i called the guy and he said he was willing to meet back up and give me my money back. but before i did that i called KMS and spoke with John (sells manger). he said we can work out a deal on me sending everything in and having them swapped out for H series. although he said i would have to pay a little extra since the springs are no longer in original packaging. but no matter what i have to pay.. i should still get everything under retail price.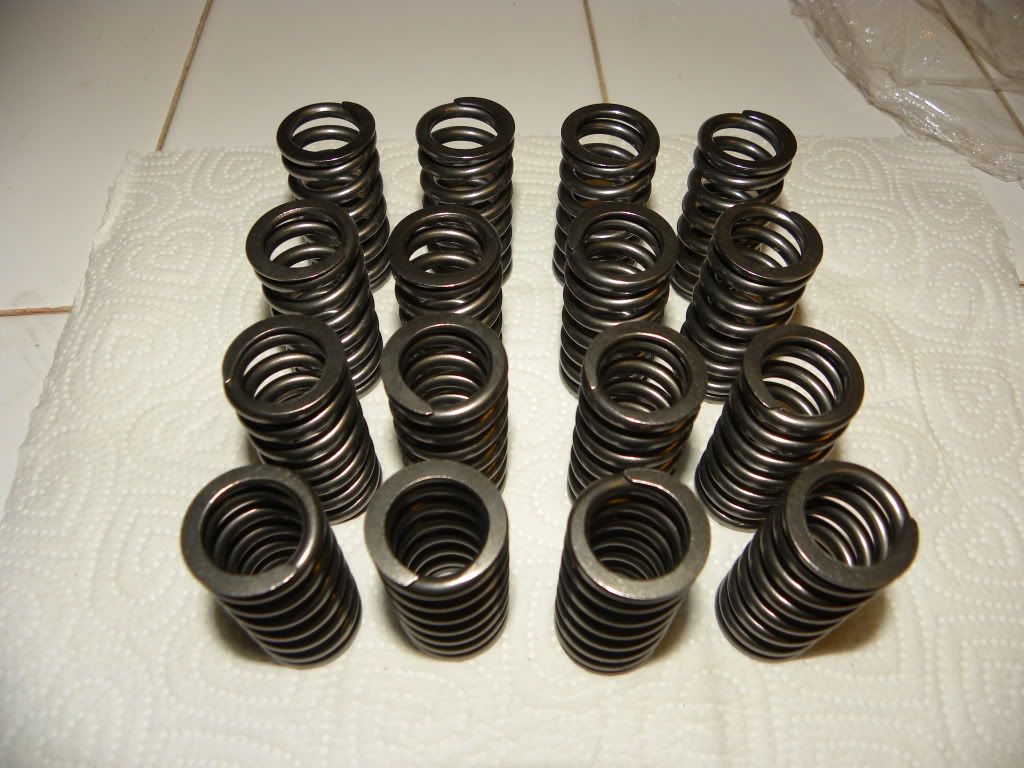 12-11-2011
well today i disassembled the block. everything looked good. no grooves or scratches or scores on the cylinder walls, crank, rods, or pistons. all bearings seemed to be in proper placement. so i honestly i cant even tell the motor is supposed to be "blown". im hoping to maybe drop it off at the machine shop sometime this week.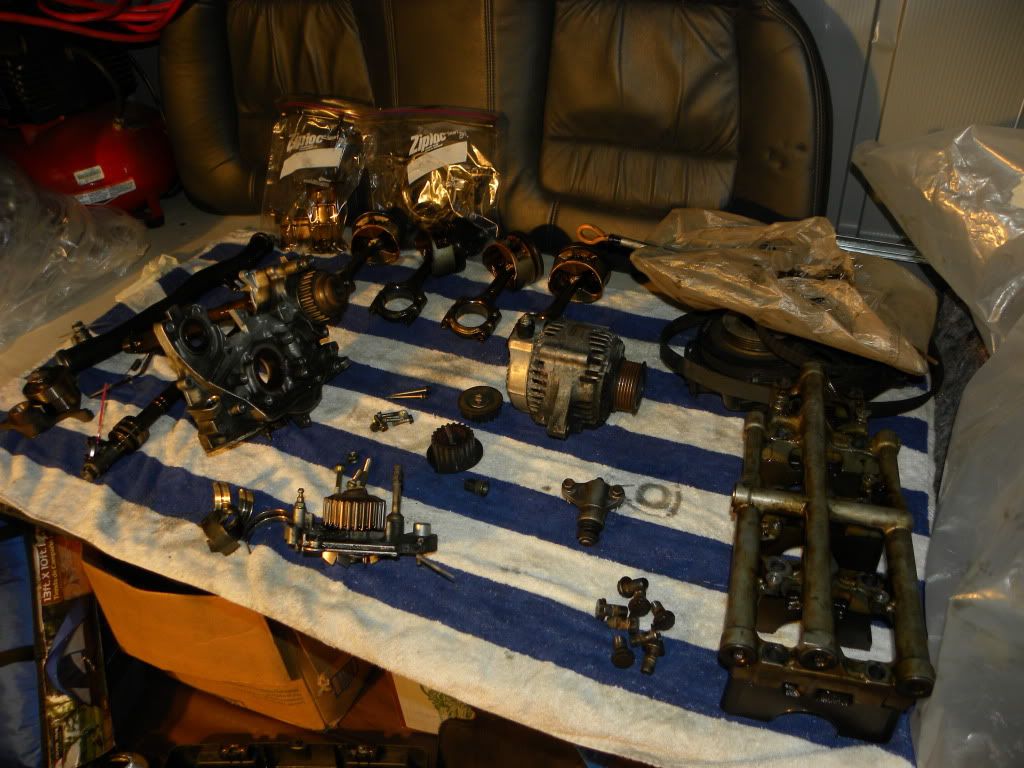 12-20-2011
quick parts update. 70mm Omni Power tb and ngk torque damper came in
1-23-2012
well havent done anything useful towards the swap in over a month now. but i did just Eagle Rods with ARP studs.
2-15-2012
so yesterday i bought myself a little Valentine's day gift.. SuperTech vavle-train.. theses are just the pics he sent me through PMs.. will post more pics once they arrive
3-05-2012
welp my new skunk2 valves showed up. although they sent me the wrong ones.. i ordered high compression valves, they sent me standard comp. will be sending theses back off to have them swapped out.
also picked up an OBX 3lb crank pulley. and i got my clutch and flywheel. stage 2 clutch and 8lb flywheel.
03-12-2012
so i finally got around to going and picking up my supertech valve train from my dads house. and my other two packages got here.. oil pan, water pump, timing belts n such, and other random goodies ill need..
*ill be updating as more parts come and when work is put in*
Last edited: